LUCIAN LUCAN - a passionate young columbophile, ambitious and with a promising future
03:07, Marti, 16.12.2008

LUCIAN LUCAN – a passionate young columbophile, ambitious and with a promising future
Question: In the introduction of our interview please reveal to the visitors of the website `Romanian Racing Pigeons` a few information about yourself (your age, how you started in the pigeon business, difficulties you have encountered up until now, events which have influenced you or which you remember etc).
Answer:
My name is Lucian Danut, I`m 30 years old, I was born in Câmpulung Moldovenesc, Suceava county, on September, 23, 1978 at the bottom of Rarău mountains, in a beautiful town where I grew up and where I decided to stay and start a family, despite all the offers I have received along the years to immigrate into another country.
I was born in a family of simple, working people, where I was given a lot of love, a place where I learned to love everything simple and beautiful, from the love offered to my fellow people to that offered to nature, animals, birds. I grew up with my grandparents and parents and around the house I was always surrounded by a lot of animals and domestic birds among which the pigeons of my father, Lucan Vasile, pigeons which were kept at that time in the loft. Since childhood I was fascinated by fishing as I spent a lot of time around my grandfather (God rest his soul) who was a very passionate fisherman. The years past and along with them I started to take a liking to columbophile competitions. I liked very much to participate in the embarking of the pigeons for competitions, together with my father, or to wait for them to get back. The birds` embarking took place in Suceava, namely 70 km away from our home, but distances do not matter anymore when the passion for pigeons is that big. I remember nostalgically that in our first years we didn`t have a personal detecting watch and, thus, we had to walk, on foot or by bicycle, with the competition clamps to a columbophile friend, 3 km away from us. The task to go with the clamp of the first arrived pigeon was mine, and behind, my father was coming with the clamps of the next qualified pigeons. Despite all the difficulties we faced along those years, we never even thought about giving up the pigeons or the competitions, moreover in every competition, my father succeeded to qualify among the first.
In 1995, by the kindness of a good family friend, mr. Mihai Begus, who immigrated many years ago into Germany and to whom I wish to personally thank this way, my father came into possession of his first detecting watch and of his first important pigeons.
In 2000, with the occasion of the visit I paid, together with my father, to mister Iftime Sorin (Falticeni, Suceava) who had at that time, thanks to the acquisitions made and the obtained results, the best titled loft from the county, I started to acquire a different perspective on this sport. The same year, we managed to build a new bird house for the pigeons (see photo), and it wasn't long before results started to show up.
The year 2001 is of great importance to me as it is : the year I got married to Florina, the year when I started a family, the year when I built a new house, but the long wished loft came only in 2005, along with the birth of our daughter, Isabel. The peace, support and understanding my family gave me meant to me an incredible support and offered me the necessary time to take care of the pigeons. This way, I would like to thank from the bottom of my heart my dear wife and my little girl for the support and understanding they show.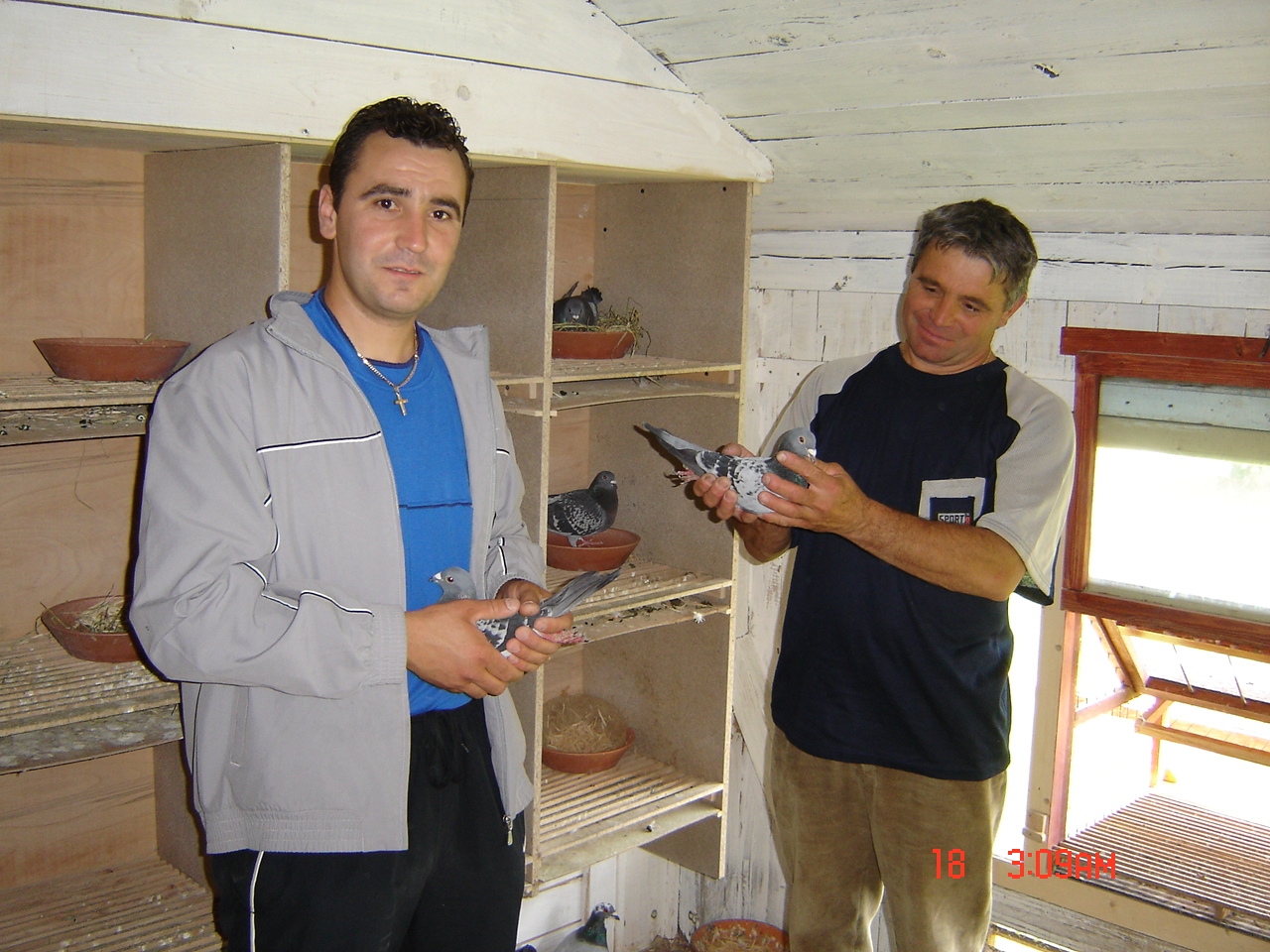 Lucian, next to his father, the man who inspired his love for pigeons
Question: After these short biographical data we think it would be appropriate to tell us a little bit about the pigeons too. What would you like our readers to know about your loft, the number of pigeons from the loft, the youngsters bred annually, the structure of the loft/compartments, lines of pigeons grown, the pigeons` origin, their sustentation, the daily program of the pigeons, the allocated resources etc.?
Answer:
My loft is built on a surface of 60 square meters and is formed of 7 compartments plus a bird house outdoors of 36 steres. Always considering the motto: `where the sun doesn`t shine through the window, the doctor comes through the door`, I made sure that my loft is oriented south-east, so the sun is always present and there is also the possibility to adjust it function of the external temperatures. I grow approximately 60 pigeons and I take care of them together with my father. His help which I benefit from is a big advantage for me, because regardless of the special situations which come up, either me or my father are at home and we can take care of the pigeons the way they should be taken care of.
I breed annually approximately 40 youngsters, and after the selection made by raptors, the trainings and the competitions organized by the columbophile association which I pertain to, at the end of the season I`m left with approximately 20-25 youngsters.
Imagine from the youngsters compartment
Along with the construction of the new loft, I also started to purchase pigeons, and while doing that I previously tried to make friends with the greatest breeders in my area, namely columbophiles next to whom I compete and whose birds obtained results locally, areally and nationally. I would like to mention here a few of them: mr. Chiriac Marinica (SV), mr. Manoila Vasile (vill of Arbore, SV), mr. Buliga Gheorghe (vill of Arbore, SV), mr. Tertes Mihai (SV), mr. Ciobanu Dan (Dorohoi, BT), mr. Vasiliu Mihai (BT),mr. Vizitiu Mihai (BT), mr. Iftime Sorin (Campulung, SV), true friends, whom I do not hesitate to ask for advice and, last but not least, from whom I can purchase valuable pigeons from their main families, pigeons that confirmed with time that they are remarkable racers and remarkably reproductive.
The time I dedicate daily to the pigeons sustentation varies from a season to another, and on the duration of the competitions this reaches up to 4 hours a day. Because of the climate and the geographical position of the loft, I avoid training pigeons in the morning at first hour. The first who go out for training are the males, around 7.30-8.00, function of the weather. In the meantime, their compartment is cleaned, their water is changed, and when they get back they will find food. I do the same with hens, and after that, around 9.30-10.00 the youngsters are released for a longer period of time. The same program is reserved for pigeons in the afternoon.
The material resources I allocate to the pigeons are consistent enough, taking into account the prices paid for food, treatments, races (for fond races I have to travel 70 km to the embarking place). However, I haven`t made an exact calculation to be able to indicate an allocated total sum, and as I do this out of passion, the material side doesn`t matter that much.
Question: Present us, hereinafter, with a few details also about the system of training for youngsters/mature pigeons, the race routes, the practiced race system (natural/viduage), the pigeons` motivation etc.
Answer:
Until the date of the first trainings, the youngsters make the best of the free races without a program, they are left to get familiar with the surroundings, being left free almost all the time. From the beginning of the first trainings, their program changes and they will go out twice a day, in the morning and in the evening. I never use flags or other methods to make them fly.
When I notice that these started to get in shape, I begin getting them accustomed with the transport basket. The first release I make takes place at a distance of approx. 5 km from the loft, these being followed, until the beginning of the competitions with the car of the association, by: 1 release from 25 km, 1 individual release from 70 km and another one from 100 km. Beside these stages I perform, I don`t miss any opportunity to fly them on distance between 25 and 100 km, in any direction, even if that is different from the official race route. At the beginning of competitions the yearlings participate unconditionally in all scheduled phases (7 or 8) these being between 125 km and 400 km.
Among some columbophile friends
Mature pigeons from the race lot mate starting with April, 1, they are left to sit on a round of eggs but without being allowed to raise youngsters. A week before the first phase of the competition, they are parted and, thus, they participate in speed demifond stages. I always see to it that the mate of the pigeon that is engaged in the competition stays at home all the time.
After the speed and demifond phases (5-6) pigeons are left together again. Practically, by such semi-viduage method, sitting on eggs but without raising youngsters, pigeons participate in fond and marathon races for 6 phases. It is only after the final stage of the competition that the best racers are permitted to raise a round of youngsters.
Personally, I think that without a motivation and a good physical condition, pigeons cannot obtain honorable places in competitions and for that, one must dedicate sufficient time. It takes a lot of attention from the breeder's part to know every bird, its temperament, in order to identify the needs and positions for maximum shape. To that purpose, I recommend an effective of pigeons as small as possible.
To me, the trainings made by the breeder in between competitions (fond, marathon) are of a great importance, trainings between 40-50 km, even up to 70 km, in order to keep the pigeons in shape. Personally, I prefer two stages of 50-70 km between 2 fond and marathon races, instead of daily trainings around the loft. The area in which I live being full of raptors, the flights of pigeons around the house are very short, that is why trainings of 70 km to which I subject them to, represent for pigeons a whole hour of forced flying and the risk of being caught by raptors is much smaller.
Question: What can you tell us about the nourishment of the pigeons (recipes, used nourishment) and the effectuated treatments (on periods of the year, used recuperators etc.)?
Answer:
As nourishment, I use the packed products (imported) which can be found on the Romanian market in a variety bigger and bigger every day. I choose the type of nourishment function of the season, but I do not hesitate to mix the import nourishment with aborigine cereals, when I consider it necessary. I use only cereals of the best quality: corn, wheat, sun-flower, mash, bird seed, hemp, two-row barley, peas which I keep in dry, safe from humidity rooms. The food I give to pigeons twice a day, in the morning and in the evening in summertime, and in winter time food is composed of 60% two-row barley and is administered once a day. The mineral food I give to pigeons as well as the salt, are two essential things which never miss from the loft, regardless of the season, these being changed and refreshed daily.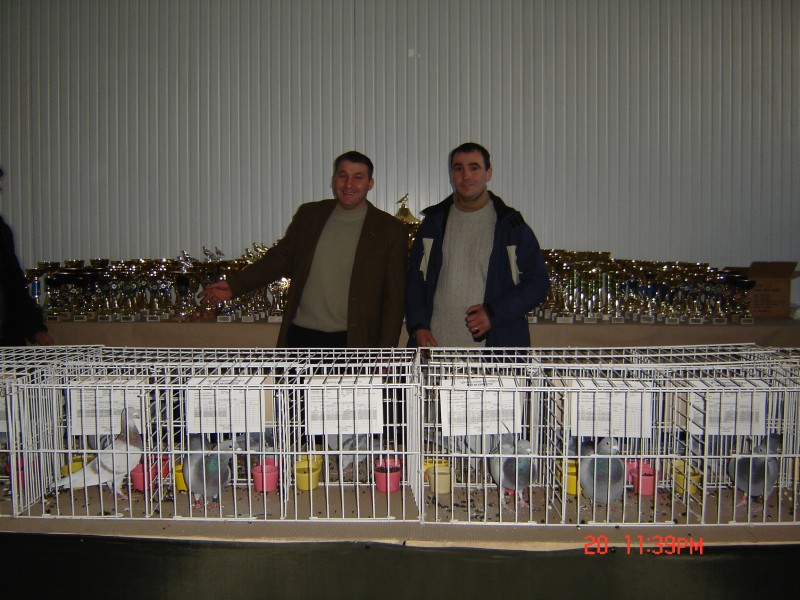 I treat all the effective of pigeons twice a year, in February and August, when they undergo treatments against intestinal worms, trichomonas, salmonelozes followed by the vaccine against paramixovirosis (I vaccinate the youngsters against paramixovirosis at weaning). Than, I continue to administer probiotics for the recuperation of the intestinal flora and to this purpose I use products from the company Rohnfried which I am very satisfied with. I use antibiotics only in special cases, these being administered individually to pigeons if it is indeed the case. In the competition period I administer treatments for the prevention of trichomonas, after every return from a race, and once a month for the prevention of worms.
Along the years I have used many types of products for recovering (electrolits), but I chose a natural one which I consider the best: honey, which I administer in a bigger concentration, individually, before and after the return from competitions. An important factor in maintaining the health of my effective of pigeons is hygiene, a clean, dry and well-ventilated loft, a loft where pigeons live and grow healthy, on the principle: `Hygiene is the mother of health`.
Hen 261144-05 in the loft
Question: Please, give the visitors of the site some additional information about the results obtained in the last years and about future projects.
Answer:
Without being pretentious, I think I can appreciate without risking being wrong that the results from the last years rewarded my work and gave me strength and courage to continue to work and fight. On the list of good results obtained by my racing pigeons recently are:
1st place - Areal - KELM II (426 km), in 2008, with 354169-07-F
1st place - County - KELM II (426 km), in 2008, with 354169-07-F
2 nd place - Areal - youngsters, BRAILA II (315 km), in 2008, `Breeder` category
3rd place - County - Sighetul Marmatiei I , in 2008, `Breeder` category (of 141 breeders)
4th place - Areal - MARATON TINERET, in 2007, with 209337/06
4th place - Areal - GENERAL CRESCATORI, in 2008
4th place - Areal - GENERAL CRESCATORI, in 2008
4th place – County - GENERAL CRESCATORI, in 2008
4th place - County – Kelm I, in 2008, `Breeder` category
5th place - National - MARATON TINERET, in 2007, F.R.C., with hen `Marinela`, 209337/06
6th place - County, GENERAL MATURI, in 2008, with 261144-05-F
6th place - Areal, GENERAL MATURI, in 2008, with 261144-05-F
7th place - Areal, FOND TINERET, in 2007, with 209337/06
7th place - Areal, Sighetul Marmatiei, in 2007, with 209337/06
7th place - Areal, Sighetul Marmatiei, in 2008, `Breeder` category, with 209337/06
8th place - Areal, ELBLAG (855 km), in 2007, `Breeder` category
8th place - Areal, Sighetul Marmatiei II, in 2008, `Breeder` category
8th place - County, Sighetul Marmatiei II, in 2008, `Breeder` category
9th place - Areal, GDANSK (900 km), in 2007, with 209337/06
16th place - National, FOND TINERET, in 2007, F.R.C., with 209337/06
As a future project, I am considering forming a family of pigeons with which to be able to participate in all competition categories, starting with speed and ending with the marathon category.
Question: What types of competitions do you prefer (speed/demi fond/fond/big fond)?
Answer:
I have a passion for fond and marathon races, but I live just as intensely whether it is a stage of 100 km or a stage of 900-1000 km. At every stage I leave with the intention of winning. To me, every competition stage, regardless of the category, represents a challenge and I prefer all the competitions with pigeons.
Question: The next question which would follow logically at this point of our discussion would be that referring to the loft`s champions. Present in a few words the champions of the loft from the last few years and their most conclusive results.
To continue, I`ll mention a few of the top results obtained by two of the front-ranks of my loft:
Hen `Marinela` - 209337-06
1st place - Association - MARATON YEARLINGS, in 2007
1st place - Association - FOND YEARLINGS, in 2007
1st place - Association - GDANSK (900 km), in 2007
2 nd place - Association - ELBLAG (855 km), in 2007
2 nd place - Association - BIALYSTOK (650 km), in 2007
4th place – Areal - MARATON TINERET, in 2007
5th place – National - MARATON TINERET, in 2007, F.R.C.
7th place – Areal - FOND TINERET, in 2007
9th place – Areal - GDANSK (900 km), in 2007
16th place – National - FOND TINERET, in 2007, F.R.C.
2nd place - Association - GENERAL MATURE PIGEONS, in 2008
3rd place - Association - MARATON RECORDS, in 2007-2008
3rd place - Association – ELBLAG II (855 km), in 2008
3rd place - Association – ELBLAG (855 km), in 2007
3rd place - Association - CHELM I (426 km), in 2008
10 th place – Areal - GENERAL MATURI, in 2008
10 th place – County - GENERAL MATURI, in 2008
75 th place – Areal - MARATON PALMARES, in 2007-2008
159 th place – Areal - FOND MATURI, in 2008
7 th place - Association - FOND MATURI, in 2008
11 th place - Association - MARATON MATURI, in 2008
`Marinela` next to hen 261144-05
Question: From where and how did you come up with the idea to establish the columbodrom `Bucovina` ? What audience do you think it will have ?
Answer:
I came up with the idea a year ago, in 2007, and I want to put it into practice, in 2009, as I wish to build something special for the columbophile sport and the columbophiles from Bucovina and not only, all of my columbophile friends having joined me in the idea of financing the columbodrom.
I think it`s too early to talk about the audience, I hope to do it in its own time, but it will be big enough as the participants are offered very good conditions as well as attractive prizes.
`Marinela` in the national exhibition
Question: Considering your columbophile experience gathered to this day, what would you advise the younger breeders (concerning the purchase of birds, the sustentation of pigeons, the cultivated lines, the flying system, the selection etc.) ?
Answer:
I advise every beginner to choose a good mentor. Try to choose an open person (an experienced columbophile from your area) whose advice to follow, be the apprentice of such a person for a while.
Start by purchasing yearlings, not old pigeons, but yearlings you can release and let them fly. Only after they prove what qualities of good racers they have, can you try and mate them. Choose very carefully the persons who purchase birds from, sticking to two, three persons, preferably of those who fly pigeons on the same race routes as yours.
Try to offer pigeons an intimate shelter, airy and maintained permanently in perfect state of cleanness, even if this takes a daily care. Stick to a limited number of pigeons, offering them in return the best conditions of nourishment and treatment. Never reduce the quality of the food in case your effective of pigeons has risen, but reduce the effective. For every beginner, I think the most appropriate flying system is the `natural` method. Try to separate very good racing pigeons from breeding pigeons, do not fly pigeons that you use at the same time for breeding, this being one of the mistakes of many columbophile beginners.
Concerning the selection system, my advice is to let the flights do it. You can make a good and safe selection only by training and flying the pigeons. Practicing this system, the type of pigeon which can resist the conditions and the race route from your area will be selected naturally.
Question: Could you let us in on a few details also about the mating system practice in the loft?
Answer:
As a mating system, I started by mating the best racers between them, using cross-breeding and considering it a safer way to obtain better offspring, method which in my case proved to be good. I consider consangvinization a two-edged weapon which one must control very well in order to use it. Practically, even breeding in consangvinization are good, but these at the level of nephews and cousins. I have noticed a rapid drop in a lot of qualities in the case of tighter breeding of the incest type between mother-son, father-daughter and brother-sister. The offspring obtained from this breeding practice have a much weaker immunity, are predisposed to diseases and have less vitality. Because of these things, I avoid, as much as possible, such type of breeding.
Thank you for your kindness and we wish you good luck in the columbophile sport.
Editorial note:
Right now, mister Lucan Lucian is on first place, in the areal centralizer on the category `Speed yearlings breeders 2008`, of a total of 300 columbophiles, with 317,21 points, which gives him great chances of winning, in the end, a place on the national podium.
A thrilling interview on pigeon sport topics with Mr. Dan Rusu - part 1
An interview with Mr. Petrica COCOS – FRC – February 2009 - part 4
An interview with Honored Master of pigeon sport, Mr. VASILIU MIHAI - part 1
An interview with Mr. Petrica COCOS – FRC – February 2009 - part 3
LUCIAN LUCAN - a passionate young columbophile, ambitious and with a promising future